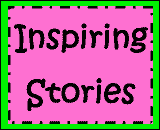 Right before heading to bed tonight, the night before I head back to school, I stopped off to check my Facebook. I am so glad that I did. I was feeling a little uninspired, having just left the beach early to return to pre-service week. My classroom is completely in boxes (we got a new air condition system, paint, and who knows what else). I found out that I'm not getting a student teacher this year (the first time in five years). I was feeling just
totally
a little BLAH. Then I read this story (
click here
) that one of my dear friends posted, along with the comment "
This is awesome. :) sometimes I forget how much I love my job, especially the beginning of the year." This story
totally turned my back to school frown upside down. Yep! It's that easy.
This is another one of my favorite inspiring videos:
The truth is that we are teachers for a reason. Many, many obstacles come along with teaching, but it is the most rewarding career a person can have! Sometimes, as humans, we forget what teaching is all about. It's not about us. It's about the Merediths and the Daltons. Plus, what other job do you get a do over, every 180 days? Here's to my 14th do over; may it be the best yet! (and if not, well at least I'll have this linky party to get me through until next year!!) :) I hope to be Ms. Miner to the 22 fifth graders I have this year! Happy 2012-2013 School Year!!
Do you have stories, co-worker's stories, videos, blogs, books, movies, etc. that inspire you? We'd love to hear about them. Comment below! :)
Inspire on.